Antonio Spitaletta is a versatile artist, painter, sculptor, engraver.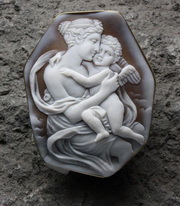 Fine cameo engraver specialized in the processing of shell cameos.
The cameos are made by hand, using the same technique of the old masters engravers.
The images of cameos are often classic iconography of mythological and fantasy; the technique have allowed him to meet the every need of demanding customers, ranging from portraits of people, animals, flowers, copies of paintings, and more.
Even painting oil paintings on canvas, you can admire the imagination and attention to detail, as well as in the cameo. The images of the paintings are the result of true inspiration, dictated by moments, moods, related to authentic artistic research.
The technical execution of the paintings, is the result of years of research and study, acquired directly in studies of professional painters of Sorrento (NA). A heartfelt thanks goes to the painter Master Enzo Prestileo.
The method of painting traces the same technique of the old masters, convinced that the methodology craftsmanship, is the only teacher of life, is the basis for any form of art. It is anchored in values, against the carelessness of some pseudo art, passed off as art. Even the sculpture traces the philosophical themes of painting, in three-dimensional form.
The sculpture was discovered thanks to the cameo that is simply a small sculpture. Fine Arts Academy of Naples studied sculpture student of professor of sculpture Ciriaco Campus. The sculptures are made of marble, porcelain, bronze. The end of the works of art is materializing their imagination and life experiences, in shapes and colors. Google Traduttore per il Business:Translator ToolkitTraduttore di siti webStrumento a supporto dell'export Disattiva traduzione istantaneaInformazioni su Google TraduttorePer cellulariCommunityPrivacy e TerminiGuidaInvia commenti